Welcome to Riverview Village Apartments
We are excited that you are interested in Riverview Village Apartments! From the first time you visit our office through the years you live in the community, you will see that our residents are our top priority. Our main focus is what's important - you. Riverview Village Apartments offers a beautifully landscaped and professionally maintained community that you will be proud to call home.
Riverview Village Apartments is located along the Grand River at 632 Riverview Lane in Eaton Rapids, Michigan. Nestled in a quiet residential neighborhood, Riverview Village is within walking distance to downtown shopping and parks.
Riverview Village offers 72 apartments, consisting of 48 one-bedroom and 24 two-bedroom units. The average one-bedroom offers 500 square feet of living space while the average two-bedroom unit spans 650 square feet. Laundry facilities are located on-site, with professional site managers available for 24-hour emergency maintenance. Riverview Village is beautifully landscaped, affordable and professionally maintained.
Our staff welcomes the opportunity to show you what sets us apart from the rest. Enjoy a carefree lifestyle at Riverview Village Apartments. For your private tour, please contact one of our leasing specialists.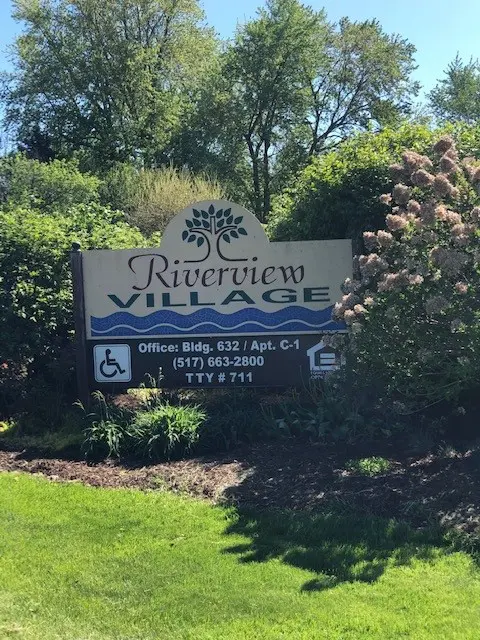 You'll love the manicured lawns and lush flower gardens here for you to enjoy. Extended maintenance services are at your fingertips removing the burden of costly home repairs so that you can really be free to enjoy the many services and amenities available in your new community.
Each apartment home features most appliances, neutral carpeting and paint tones, a variety of beautiful views and much more. At Riverview Village Apartments our top priority is you - our commitment to serving your needs is unparalleled.
1 Bed
1 Bath
530 sq. ft.
1 Bed
1 Bath
560 sq. ft.
2 Bed
1 Bath
692 sq. ft.
2 Bed
1 Bath
730 sq. ft.
Contact Riverview Village Apartments